STAYING CONNECTED
Our Church's Social Media:
Youth Group Instagram: aefc_youth
Zoom is a conference video call great for Bible studies and small groups – https://zoom.us/
SPIRITUAL GROWTH
If you are part of our church family, you have free access to a wonderful video resource called RightNow Media — a streaming resource library with tons of resources for all ages. If you want to browse their offerings, visit their site by clicking here. If you want to sign up for your own log-in account (did we mention it is free?), click our church's unique invite link here to sign up! 
Not sure how to pray through this whole thing? Check out this great article: "20 Prayers to Pray During this Pandemic" …..and when you are done with those 20 Prayers, here are "20 More Prayers to Pray as We Approach the Pandemic's Peak"
VidAngel has released an episodic account of the life of Jesus called The Chosen. Several of our church family have enjoyed watching it the last few weeks and are highly recommending it. Check it out for yourself!
YouVersion Bible App: search for "Bible" in your app store and look for this icon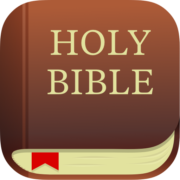 FOR FAMILIES & CHILDREN
Looking for help with family devotions? Check out these Easter-themed Home-Based Discipleship resources from Truth:78, a ministry connected to the children's Sunday School curriculum we use.
https://subsplash.com/family/app – This resource will enable every family to have tools and helps to encourage and aid their spiritual life @home.
Adventures in Odyssey FREE Membership – https://www.oaclub.org/
You can also check out LifeWay's Kids at Home Resources 
Teaching Kids About Creation During Quarantine
Free lessons and devotional materials
---
If you've wondered whether it is appropriate to cancel in-person church services because of the Covid-19 pandemic, this statement from Christianity Today and the National Association of Evangelicals offers a great summary of why this is the right thing to do.